PARISIAN BAKER BOY | PFW DAY 1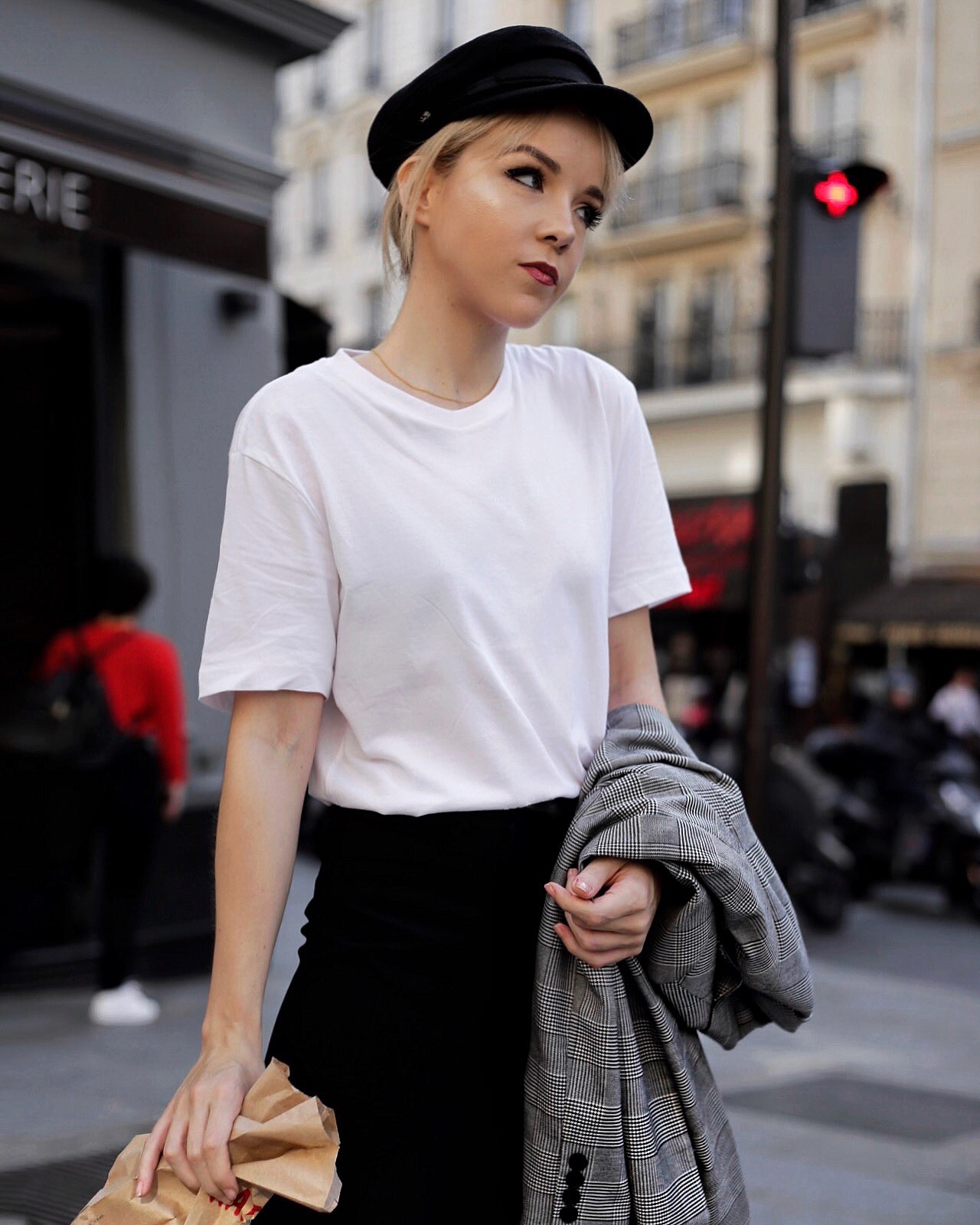 PARIS FASHION WEEK 2017 DAY1 - AFTERNOON
Bonsoir! Before you think I broke my gluten-free diet in Paris with some delightful croissants.. well, yes I did. But not on the first day, I'm not that weak! Now when you put croissants in front of me every morning, (hotel courtesy), and I have to literally run out the door, well I guess there are worse things in life. (allergic reaction includes tiredness and looking like I gained 5 pounds during breakfast.. lol you don't want to know)
These photos were not planned at all. After a long day of switching clothes and going to shows, with only a croissant-free breakfast from 8 AM to now 4:30 PM I stopped by Naturalia to get some almonds and stop to appreciate the fact that I was in Paris. Believe me or not, most times I forget since I am constantly in an international environment with Starbucks and people who can speak English.
It felt like sunset time, it was warm, not too hot, not too cold. Yes, my feet were hurting but what's a fashion week without that? These boots are surprisingly comfortable. I remember my first year coming to Paris Fashion Week, February 2016, I literally ran from Grand Palais to Palais de Tokyo in my high Valentino Rockstuds heels. What a moment.
The next season I literally got the most comfortable clothing I could find, so white flat sneakers and leather leggings, with a few days in black high leather boots. Obviously lost fewer shows and events, and even made it to last-minute invitations. I wanted to check-in on every single thing to sort of have an idea of what I was really looking for during Paris Fashion Week.
So the third time comes about, I take my own notes and advice (yup, there's a series of Fashion Week Q&As on Youtube) and applied as much as possible.
First of all: you don't need to stay the full 10 days. I'm so crazy, who actually stays the 10 days without getting sick and drowsy on the by the 7th. I got a horrible acne rush last year that took about a year of dieting, extra sleep and tons of water to get rid off. It dried my skin and was painful. Thankfully that is gone. - Don't stay the full 10 days. - I stayed 5 this time. Did I miss a few shows? Yes. Was that ok? Yes!
Secondly, Stay central, leave early. There's nothing as bad as flying to a city for specific events and leaving without making the most of it. In other words, that show at 10 AM is part of the reason I am in Paris in the first place. So skipping it because I am feeling sick is just taking part of the experience from myself. (specially when you are staying for 5 days). No show is a bad show, unless you are Rihanna, and in that case, you have better things to do.
Third: Show who you are by the way you dress. This is very important because it will attract the right people to come and talk to you. And if you can fit a few trends into that, not only it shows that you know what you are doing, but also provides good photo material of future and current trends to the street style photographers waiting at the door at the shows. It can be hard to get someone wearing a spacesuit in a wearable way to give you an example. It's part of what makes fashion week fun.
And just to add a few more, think of providing value when you attend a show or event. Something as little as talking with people, or snapping into instastories. you are invited to either buy, provide exposure or content material (like photos) or you elevate the event with your presence and create some kind of buzz (aka, Rihanna type of thing..).
Also, being ready to walk instead of uber because of traffic, so high boots must be comfortable. Not minding being hours without eating. And not minding breaking the diet to some extent.
About the look, I am wearing a man's white t-shirt, super comfortable, I could live in this. High waisted cigarette trousers - that is my thing now. Have been wearing the Fiddler/Brixton hat pretty much the entire week in Paris. It's just a nice way to finish any look. The blazer, I ended up wearing less than I initially expected, it was so hot in Paris. To finish up the look, and give it a twist, I decided to wear my silver boots instead of the white ones. And took the Armani because it not only fits the vinyl trend perfectly, as it can also fit a ton of things inside.
(Thus, the marks on my arm if watched the vlog on youtube)
WATCH NEXT: Paris Fashion Week - Day 1 | Ep.2